Planet Spa has been introduced by the world-known cosmetic brand – Avon. The line is characterised by effectiveness, unique design and wonderful aroma of products. Among various Avon Planet Spa body and hair products, there is also a hair butter, to be more precise – a hair mask which is supposed to deliver blissful nourishment.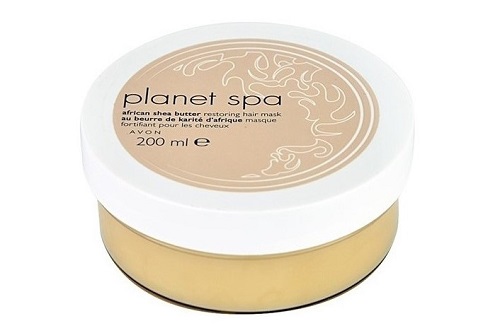 A good quality hair mask should provide an intensive action. Avon Planet Spa Restoring Hair Mask meets the needs of weak hair. It is ideal for those whose hair needs strong support. Avon hair butter has been created to tempt with aroma and pamper your hair with natural extracts.
Avon Planet Spa African Shea Butter Restoring Hair Mask contains:
shea butter,
hydrogenated castor oil,
wheat proteins,
complex of synthetic substances.
Shea butter also plays a main role in the cosmetic. It nourishes during the very first use. The butter provides cellular renewal, therefore hair becomes stronger and more beautiful. Shea butter, in combination of other ingredients of Planet Spa African Shea Butter, delivers softness and smoothness. Your hair gets back its vitality and good condition. Castor oil may enhance hair growth and reduce falling out.
The application of Avon Planet Spa is easy. You apply the cosmetic to washed and gently dried hair. Massage the butter into hair and scalp and leave in for several hours. The time it should stay on your hair isn't indicated but it is safe to leave it for 10-15 minutes. Then, rinse the cosmetic thoroughly.
The consistency of Avon Planet Spa African Shea Butter Restoring Hair Mask resembles a vanilla pudding – it is creamy, dense and has a delicate cream colour. The aroma is also worth mentioning – it is caramel. You will smell the sweet notes even after a few hours. You should apply the product generously, which is why the mask of 200 ml capacity runs out very quickly.
Product's assets:
African shea butter,
cellular renewal,
softer and nourished hair,
long-lasting sweet scent.
Product's drawbacks:
must be rinsed off,
very low efficiency,
lots of synthetic substances,
price inadequate to the quality.