Affordable prices and wide range of products. Alverde Naturkosmetik is a German brand appreciated because of cruelty-free cosmetics. One of them is Avocado & Shea Hair Butter. Sadly, it is on a low position in the ranking because there are other cosmetics which offer better action and more interesting active ingredients.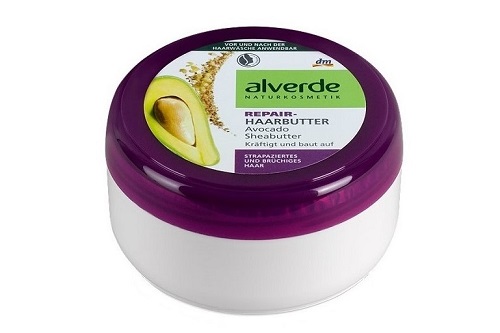 Repairing Alverde Avocado & Sheabutter is designed for dry, damaged and shine-less hair. It is a cosmetic that will work for all those who have rough, dull and weak hair. Excessive hair loss and frizz will be no longer your problem because Alverde hair butter is a remedy for unruly hair. It is thanks to rich composition – butters and oils.
Alverde Repair Haarbutter Avocado & Sheabutter contains:
shea butter,
cocoa butter,
soya oil,
castor oil,
avocado oil,
jojoba oil,
grape seed extract,
proteins of corn, wheat and soya,
sunflower oil.
Alverde Repair Haarbutter Avocado&Sheabutter is a formula which smooths, softens and tames hair. It is a hair butter which can repair hair. It delivers nourishment, regeneration and strength. Alverde Repair Haarbutter restores natural shine and improves the appearance of your hairstyle thanks to natural shea butter, cocoa butter and avocado oil. It gets a point for being formulated without parabens, silicones, SLS.
The way you use Alverde hair butter depends whether you want to apply it before or after washing. In the first case, apply it to dry hair, leave in for 10-15 minutes and rinse thoroughly. If you choose the other option, apply Alverde butter to dry but washed hair. Theoretically, Alverde Repair Haarbutter doesn't need to be rinsed but if you don't do it, it may make your hair greasy and overburden it.
Alverde Avocado&Sheabutter repairing hair butter is very creamy and dense. Its colour is light. It isn't as hard as natural hair butters so it is far easier to spread. Unfortunately, it runs out quickly due to being dense.
Product's assets:
two natural hair butters,
valuable oils and plant extracts,
creamy formula of a nice scent,
free from harmful substances,
low price adequate to the quality.
Product's drawbacks:
very low efficiency,
may overburden and cause oily hair,
the scent vanishes quickly.